Restaurant closed on Sunday evening, Monday all day and Tuesday lunch.
Service hours: 12:00-13:45 and 19:00-20:45. Annual leave from December 22, 2022 to January 25, 2023 inclusive.
The Sundgovian Inn, or the Baerenhütte of yesteryear, has known three generations: the Kellers. Since 1997, Véronique, the granddaughter, and her husband Jean-Bernard Hermann welcome you in a contemporary setting, entirely glazed and bathed in light in the heart of nature.

The restaurant in Carspach, easily accessible on the Basel – Belfort axis, is a gastronomic meeting point not to be missed in Southern Alsace.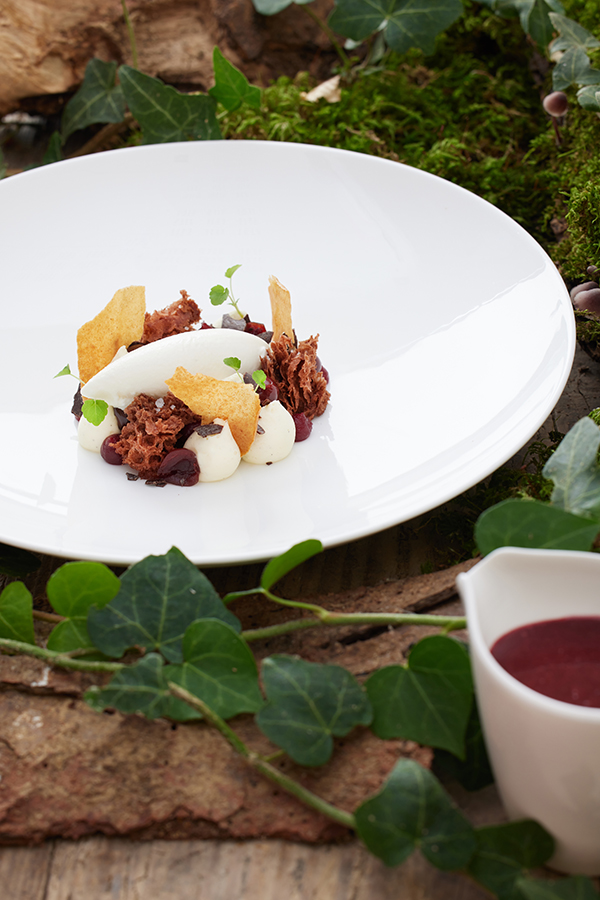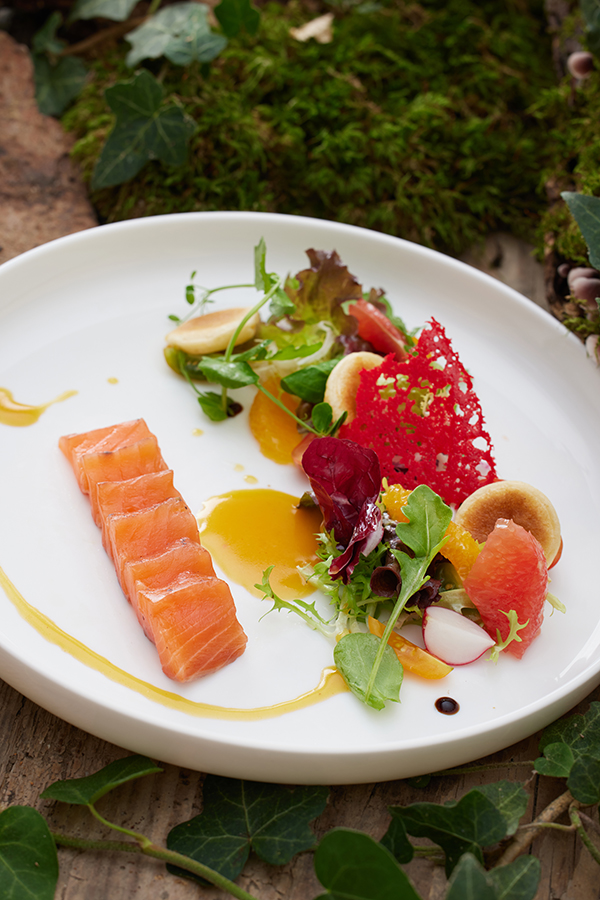 The chef and his team offer you a fine, creative cuisine, inspired by traditions and seasons, which offers the best of the land: fresh game, fish, mushrooms, vegetables, fruits…

To give you an idea: homemade duck foie gras, scallops sautéed in a pan, fillet of sea bream or turbot a la plancha with seasonal vegetables, Angus beef fillet… not to mention the desserts, each more delicious than the last.

You will also find our suggestions of the moment according to the season's products.

The restaurant is closed from Sunday evening to Tuesday noon.
We continue to sell take-out by phone the day before or in the morning until 9:30/10:00.
The schedules of withdrawals in sale to take away: from 11h30 till 13h30 or from 16h45 till 18h.
Orders can be placed by phone at
03 89 40 97 18
or by mail to :
mail@auberge-sundgovienne.fr
by specifying the desired pick-up time.
Our menus and dishes to order can be tasted the same evening of the withdrawal of the order by keeping them in the refrigerator. The payment is made on the spot when the order is collected.
Bon Appétit to all!
Véronique and Jean-Bernard Hermann
Pan-fried sea bass back

28€

ratte apples and small vegetables, spicy juice

Green roasted rack of lamb

27€

Seasonal vegetables, Apple Anna

Some vegetables, Anna apples, red wine sauce

Some vegetables, Anna apples, Morel sauce

Pink pralines and liquid caramel

Heart of veal in a sauté pan

20€

Small vegetables in a casserole, apple Anna and veal juice
Perfect egg casserole

18€

in a truffle and celery emulsion

in Kadaïf leaf, mixed vegetables and Thai broth

Back of Salmon like a Citrus Gravelachs

18€

blinis and citrus vinaigrette

Risotto with Melanosporum Truffles

27€

Bunch of purple white asparagus from Provence

22€

with 2 hams, vinaigrette and mayonnaise
Roasted codfish back,

24€

some candied vegetables, juice of a bouillabaisse linked to the rouille, olive oil of the cagne

Pan-fried sea bass back,

32€

ratte apples and small vegetables, spicy juice

Hokkaido pumpkin, clear cocoa syrup, emulsion of reduced and creamy cider

white asparagus tips and asparagus cream with chives black rice risotto

fried in Port wine, pea puree, Spaetzles

Rack of Lamb New Zealand roasted in green,

31€

pan-fried ravioli stuffed with Shiitakes and hazelnuts, garlic juice

Beef Entrecote Germany

32€

Sarawak Pepper Sauce, Vegetable Casserole and French Fries

red wine sauce, vegetable casserole and French fries

morel sauce, vegetables in a casserole and French fries

Assorted cooked seasonal vegetables,

23€

French Fries or Doormat Apples

Sautéed monkfish tail

38€

fricassee of morels in yellow wine, green asparagus and potato gnocchi

Duroc Iberian Pork Flank Steak

22€

polenta with dried tomato and herbs, raspberry vinegar sauce
pink pralines and liquid caramel

Pavlova in pineapple juice

11 €

creamy passion and passion fruit sorbet

Plate of sorbets or ice cream

11€

with the fruits of time 9€.

filled with a light vanilla cream and Grand Cru hot chocolate

Granny Smith apple dome in textures

11€

caramel with salted butter 11€.

Genoa bread entremet,

11 €

creamy black sesame, Madagascar vanilla mousse, Salted butter liquid caramel and Ribot milk ice cream

Spirit of a Black Forest

11€

vanilla and mascarpone ice cream 11

Our inverted Mont Blanc

11€

blackcurrant sorbet full fruit
Menu of the moment on site
Roasted redfish back with a hint of Alsace

or

Cassolette of a perfect egg, mushroom emulsion

*******

Heart of almost veal in the sauté,

fleischnakas with foie gras and small vegetables

veal juice

********

Cheese board (suppl. 8.00 €)

*******

Granny Smith Apple Dome in textures

salted butter caramel
Duck foie gras cooked in a cloth,
quince macaroon

*******

Sautéed turbot, white asparagus tips,

cream of asparagus with chives

*******

Fillet of beef with red wine

vegetable tartlet on onion soup

*******

Cheese board (supp. 8.00 €)

*******

Lychee dessert with lime insert, all in geometry

We also offer this menu in a 3 course formula at 59 €.
– Duck foie gras
– Fillet of beef in dish
– Lychee dessert entremet
Breaded escalope, vegetable and French fries
Or
Yellow Pollock cutlet with sparkling sauce and pasta

******

Mixed ice cream or floating island
20.50 euros on the spot and 19.00 euros to take away
After obtaining his CAP-BEP at the hotel school in Guebwiller in 1980, Jean-Bernard Hermann studied with Pierre Gaertner at the "Armes de France" in Ammerschwihr (2 Michelin stars) before joining Pierre Roger as chef de partie at "L'Hostellerie de Pont-Sainte-Marie" in Troyes (1 star), "L'Auberge de l'Ill" in Illhaeusern (3 stars), Alain Chapel in Mionnay (3 stars).